A cream, two-story building with a bright rainbow sign towers up about a five-minute drive off the Borcherds Quarry Road off-ramp to Crossroads near Cape Town on the N2 highway, behind an amagwinya (vetkoek) shop and a tin shack.

It is heavily secured, with four security guards wearing orange reflective vests patrolling the perimeter. CCTV cameras and additional guards watch over the Emavundleni Prevention Research Centre, where Amanda Roberts, 23, is scrolling on her phone while waiting for a doctor in a consulting room.

It's pouring outside and the streets are muddy, but that hasn't stopped Roberts, a teaching assistant, from coming to get a CAB-LA jab every two months. The shot, which will be injected into her buttocks, will save her life because it eliminates the possibility of her contracting HIV through sex.

Roberts' mother died of HIV in 2016. Her mother's surviving twin sister has also become infected with the virus. "I'm afraid of getting infected and don't want to follow in their footsteps," she says. "I was abandoned with my younger brother and now have to care for him on my own."

Roberts is an outspoken woman with long, dark-red braids draping down her back and a gold nose ring.

"I'm not embarrassed to come to the clinic," she says. "Everyone knows I'm going to get this shot."

Roberts and her boyfriend split up for four months a few years ago.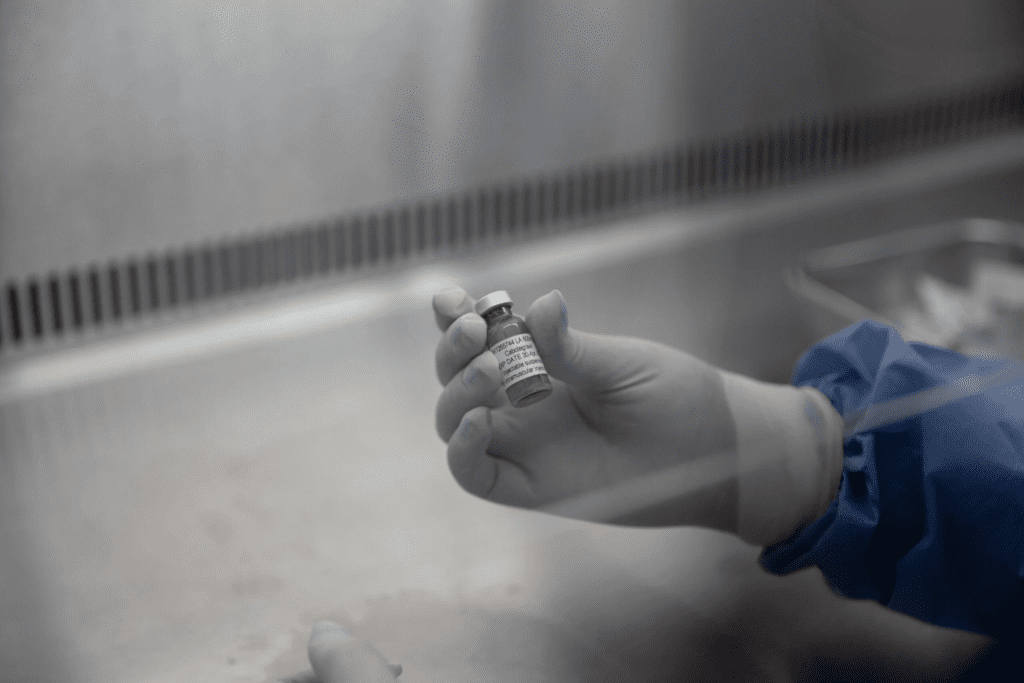 "During that time, he must have slept with someone else," she explains, "because I contracted a sexually transmitted infection shortly after we got back together, and he was the only person I had sex with."

"I thought to myself, what if he had slept with someone who was HIV positive?" she says as she checks a WhatsApp message.

"I was desperate to get this shot."

The Desmond Tutu HIV Centre at the University of Cape Town runs the Emavundleni Prevention Research Centre, which is a world-class clinical trial site. The open-label phase of a study called HPTN 084 is taking place here. The researchers and trial participants both know which drug volunteers receive in an open-label study.

CAB-LA is given to Roberts and over 3200 other women from Sub-Saharan Africa in this study. Because scientists have already established that the medication works extremely well in preventing HIV infection, researchers are looking at how easy or difficult it is to roll out.

Once the drug has been approved by our medicines regulator and a price has been agreed upon, this information will assist the government in determining what resources it will require and what obstacles it can expect along the way when (and if) the injection is eventually made available to hundreds of thousands of people.

Roberts has been taking CAB-LA for six months, and this is her third injection.

"I was desperate to take this injection," she says. "I knew I was going to need it."

The less frequently you take the pill, the less effective it becomes.

CAB-LA is an abbreviation for long-acting (LA) cabotegravir — cabotegravir is an antiretroviral drug (ARV) that some HIV-infected people use in combination with other ARVs to prevent the virus in their bodies from replicating itself. When such medication is used to prevent HIV infection — that is, before HIV exposure — it is referred to as pre-exposure prophylaxis, or PrEP.

"It works a little bit like a contraceptive injection in that it prevents you from getting pregnant," says Linda-Gail Bekker, director of the Desmond Tutu HIV Centre and one of the lead investigators on the HPTN 084 trial in South Africa. "The injected drug [cabotegravir] enters the muscle and remains there for two months before slowly dissolving into the bloodstream." Then it goes to work, preventing HIV from entering your cells."

For five years prior to taking CAB-LA, Roberts took a daily HIV prevention pill containing two ARVs, tenofovir and emtricitabine.
---
Don't forget to follow us on Facebook | Instagram | Twitter | LinkedIn to get the latest updates from Cape Town Tribune