Sydney incident: Man arrested over stabbings in city centre
2019-08-13
---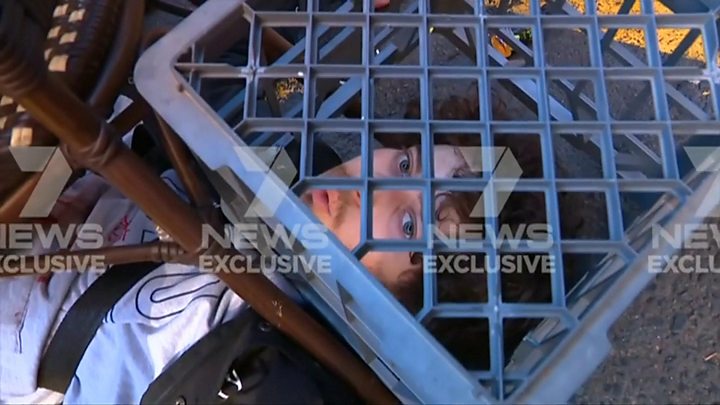 An armed man has been arrested after stabbing a woman in central Sydney and being detained on the street by members of the public.
A second woman was found dead inside an apartment building on the same street.
"All the information we have at hand would link these two crimes," police commissioner Mick Fuller said at a press conference,
He said the suspect was a "lone actor" with a history of mental health issues.
He said he was known to police but "his history was unremarkable compared to the gravity of the crimes he committed".
He "had some ideologies related to terrorism, but he has no apparent links to other terrorist organisations," the police commissioner added.
He confirmed the stabbing is not currently being classed as a terrorist incident but would reassess this as the investigation continues.
Three "heroes" were praised by New South Wales Police Minister David Elliot for their role in detaining the man and acting "well and truly beyond the call of any citizen".
What happened?
The incident unfolded at about 14:00 local time (04:00 GMT) on Tuesday near Clarence St and King St, a busy area in the city centre.
Video footage shows the suspect jumping on a car wielding a knife, shouting "Allahu Akbar" and "shoot me", as another man confronts him with a wicker chair.
Police said the suspect had stabbed a 41-year-old woman in the back before being restrained by three members of the public.
They "placed him essentially under arrest, even though he was branching a large butchers knife and was clearly dangerous".
Emergency services arrived shortly after and following a wider investigation, the body of a 21-year-old woman was found nearby.
The injured woman was taken to hospital in a stable condition. Police said there was no ongoing threat.
'Blood on his shirt'
One witness said she saw the man jump on a car before he was confronted by people on the street who tried to fight him with chairs and pipes.
"The guy had blood on his shirt. He was screaming, holding a knife on his hand, and running up a car just in front of us," Japanese tourist Aya Yamada told the BBC.
"Another guy with a chair and some firefighters were chasing him. I was in the car with my husband and friends, and could run away immediately."
Videos posted online show a man running through the streets brandishing a knife, before people attempt to stop him and eventually tackle him to the ground.
Other images show the suspect being pinned down with a chair and a milk crate, then being taken away by police.
'Significantly brave'
Supt Wood praised those who had intervened in the "extremely dangerous and hostile" situation, saying their actions had helped capture the man.
"They were significantly brave people," Supt Wood said.
Three British men were among those who helped take the man down, the Sydney Morning Herald reported.
Lee Cuthbert, Paul O'Shaughnessy and Luke O'Shaughnessy, all from Manchester, were working nearby when they heard the commotion outside and ran out to help.
"You don't think, you just kind of react really, it was surreal, very, very surreal," said Mr Cuthbert.
"We all kind of chased, worked together, but it was Luke who was the real hero. He pursued him the hardest and managed to get a grip of him."
Authorities have urged people to avoid the area.
Australian Prime Minister Scott Morrison tweeted that the "violent attack" was "deeply concerning".